Rhino Jr. Hydraulic Spear Tube Puller (Captain America Puller)
Workhorse hydraulic tube puller, designed for years of trouble free service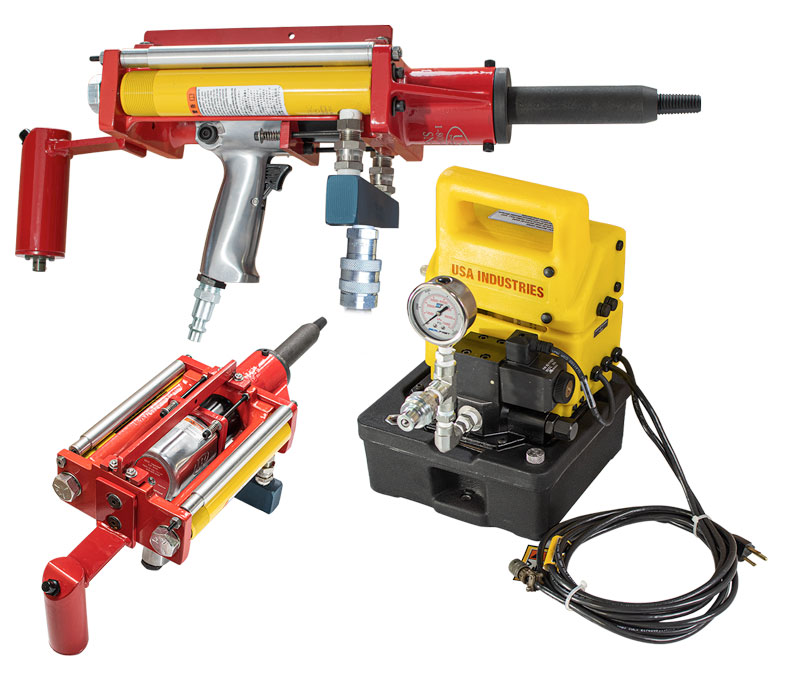 Product Description
USA Industries is extremely proud of our hydraulic spear tube puller, dubbed "Captain America" because it packs a heck of a punch (and of course it's color scheme)!
This workhorse of a tube puller is fully self-contained, fast, and dependable. Proven to provide years of trouble free service, you can rely on this unit to pull stubs or entire tubes with 10 tons of power with a single operator.
With 4" of pull in a single, quick stroke, this tube puller can pull up to 180 stubs/minute, and is ideally suited for removing 1/4" to 1" O.D. tubes of all gauges, in tube sheets up to 4".
This unit operates off of 110VAC power, and ships complete with pulling gun and hydraulic pump. Spring balancers are available for weightless support of your pulling gun.

Rhino Jr. Manual Tube Puller
USA Industries is proud to offer a quick and easy, manual tube puller for your small, light duty pulling jobs. Simply use a wrench screw, screw the spear "A" into the tube, then begin pulling by turning nut "B". After the tube is free from the tube sheet, remove it by unscrewing the spear "A" while holding the tube with channel locks or a pipe wrench.
This is an extremely cost effective tool for those smaller jobs that don't require a hydraulic puller. Available for tubes from 1/4" to 1 3/8" in all gauges.
Find USA Industries Listing on: