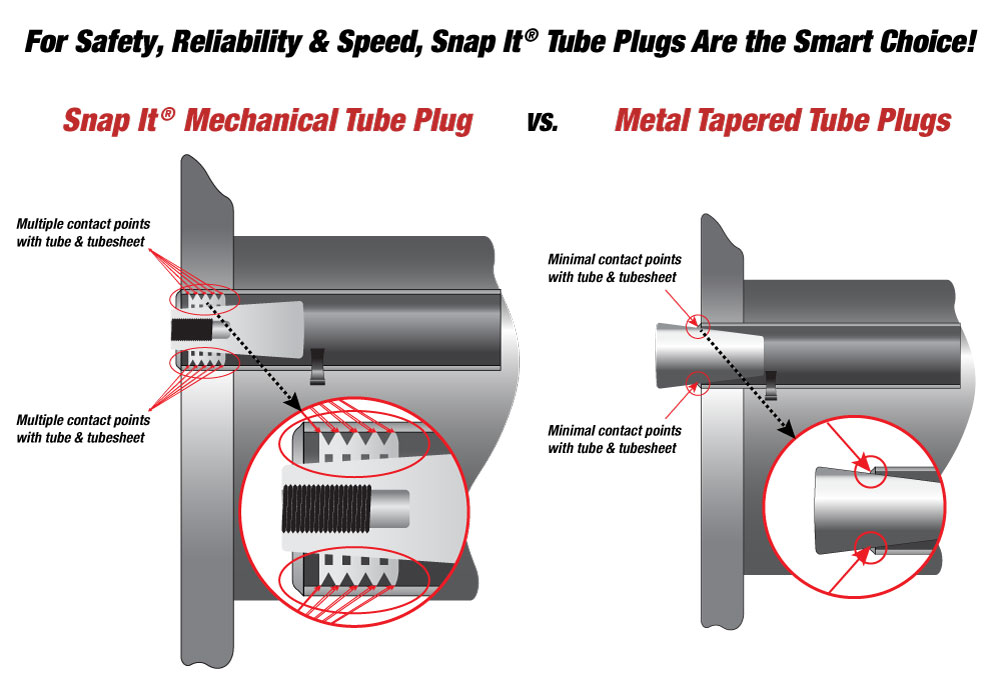 Snap It® Jr. Mechanical Tube Plug
The Fastest, Safest, Most Cost-Effective and Reliable Way to Plug Tubes.
USA Industries' Snap It® Jr. Mechanical Tube Plugs is the major engineering advancement you've been waiting for. Now you can install tube plugs without welding and in 80% less time, avoid tube sheet damage completely, and Snap It Jr is rated @ 1,000 PSID!
Snap It Plugs should always be installed within the rolled section of the tubesheet. If the tubes are not rolled into the tubesheet, consult USA Industries (1-800-456-8721) before proceeding. Remove scale and pitting with USA Industries' Snap It Brushes prior to installation. Any weld droop should be removed prior to plug installation.
SNAP IT JR PRODUCT FEATURES & BENEFITS
Ideal for medium pressure applications
Rated up to 1,000 PSID
Blowout pressures exceed 18,000 PSID
Materials: Stainless, Carbon Steel, Brass, Titanium, and more
Comprehensive Testing and Quality Assurance Standards
ASME PCC-2 Compliant
NO tube sheet damage
NO welding required
Easy hydraulic installation
Up to 80% in labor cost savings
NO need to remove rear cover with through-the-tube plugging
In-stock items ship within 24 hours
USA Industries Snap It® Plug, Tools & Accessories Training Series
6 – Through-The-Tube or Far End Plugging of USA Industries Snap It® Jr. Plug
Frequently Asked Questions
Find USA Industries Listing on: