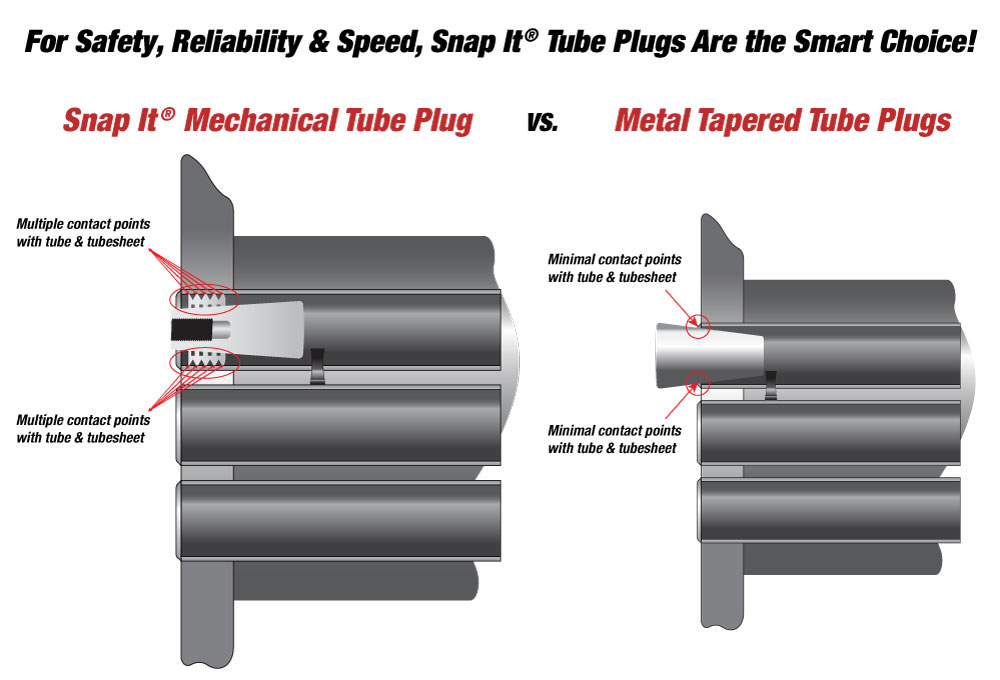 Snap It® Jr. Mechanical Tube Plug
The Fastest, Safest, Most Cost-Effective and Reliable Way to Plug Tubes.
USA Industries' Snap It® Jr. Mechanical Tube Plugs is the major engineering advancement you've been waiting for. Now you can install tube plugs without welding and in 80% less time, avoid tube sheet damage completely, and Snap It Jr is rated @ 1,000 PSID!
SNAP IT JR PRODUCT FEATURES & BENEFITS
Ideal for medium pressure applications
Rated up to 1,000 PSID
Blowout pressures exceed 18,000 PSID
Materials: Stainless, Carbon Steel, Brass, Titanium, and more
Comprehensive Testing and Quality Assurance Standards
ASME PCC-2 Compliant
No tube sheet damage, no leaks, no worries!
With NO welding required expect up to 80% in labor cost savings
NO need to remove rear cover with through-the-tube plugging
In-stock items ship within 24 hours
Snap It Plugs should always be installed within the rolled section of the tubesheet. If the tubes are not rolled into the tubesheet, consult USA Industries (1-800-456-8721) before proceeding. Remove scale and pitting with USA Industries' Snap It Brushes prior to installation. Any weld droop should be removed prior to plug installation.
USA Industries Snap It® Plug, Tools & Accessories Training Series
6 – Through-The-Tube or Far End Plugging of USA Industries Snap It® Jr. Plug
Frequently Asked Questions