EZ Torque® Gaskets for Header Plugs
Kammprofile Gaskets (also known as Camprofile Gaskets) Prevent Deformation, Thread Galling & Shear in your Air-Cooled Heat Exchangers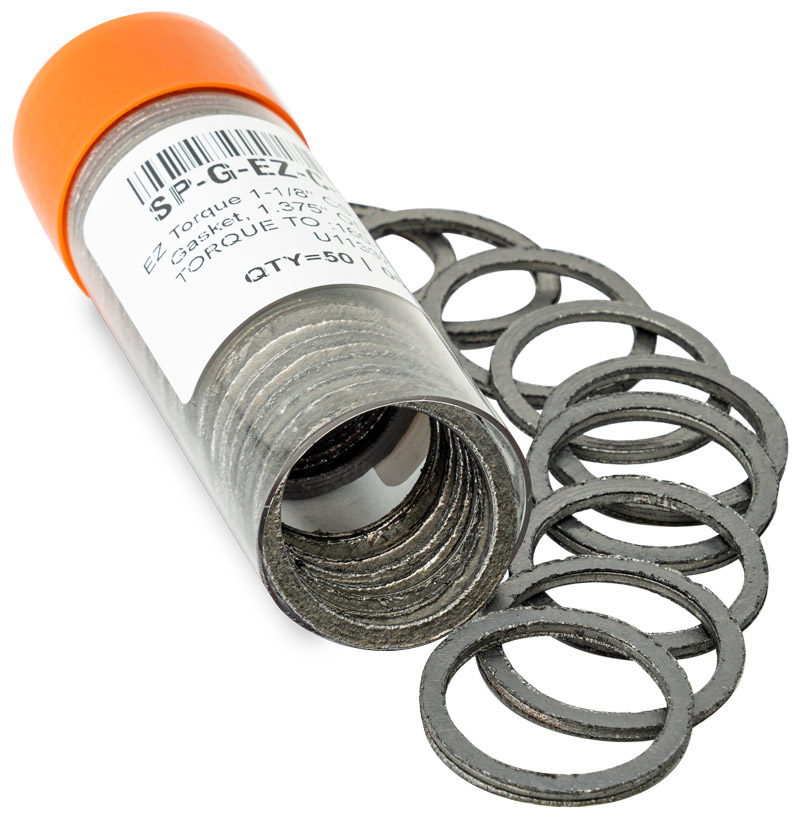 "I can vouch for these gaskets. Since we started using these over the OEM, we have not had a start up leak on our fin fan exchangers."
M. Ferguson
PRODUCT DESCRIPTION
USA Industries designed the EZ Torque® Kammprofile Gasket (also called Camprofile Gasket) to provide a positive seal affected by less than half the installation torque required for traditional flat heat exchanger gaskets. The EZ Torque Kammprofile Gasket consists of a serrated metal core with a bonded layer of graphite on each surface. This construction allows for focused and distributed forces, greatly increasing the ability of the gasket to properly seal against surface imperfections, eliminating expensive re-machining costs, as well as requiring significantly less torque.
EZ Torque® Gasket Sizing Chart

Typical
Tube OD
Typical
Plug Diameter
Typical
UNF Thread
Hex
Size
EZ Torque
Gasket #
5/8"
3/4"
16
1"
SP-G-EZ-0750*(-M)
1"
1 1/8"
12
1 3/8"
SP-G-EZ-1125*(-M)
1 1/4"
1 3/8"
12
1 5/8"
SP-G-EZ-1375*(-M)
1 1/2"
1 5/8"
12
1 7/8"
SP-G-EZ-1625*(-M)
2"
2 1/8"
12
2 3/8"
SP-G-EZ-2125*(-M)
All sizes are typical and for use as reference. USA Industries can custom make your EZ Torque® header plug gaskets to any size or specification, and in any material you need! FIN-FAN is a Registered Trademark of Hudson Products Corporation
NEED SHOULDER/HEADER PLUGS?
We Ship In-Stock Plugs Same Day!
---
We're able to produce more than 1,000 header plugs / shoulder plugs daily for your fin-fan (air-cooled heat exchanger) at a high quality, to your exacting specs and ship them out 24/7!
EZ TORQUE GASKET PRODUCT FEATURES:
Virtually eliminates field remachining
Seals evenly against surface imperfections
Prevents damage from over-torquing
Can be used with your existing header plugs
Confidentally seal high pressure applications
Pass leak tests on first attempt!
Same-day shipment on in-stock sizes
Frequently Asked Questions
Find USA Industries Listing on: