JLD-6500 Vacuum Joint Leak Detector (VJLD)
Leak test rolled or welded tube sheet joints with the vacuum pressure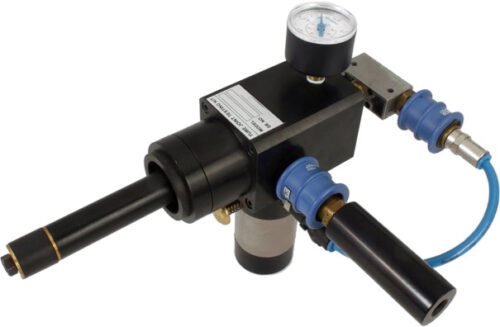 Product Description
Now you can leak test rolled or welded tube sheet joints with vacuum pressure in just seconds. Insert nozzle into the tube and press face of the gun into the clean tube sheet joint being tested. Actuate gun to generate the vacuum, if pressure fails to hold...there is a leak.
Each kit is provided with the following:
• 1 ea - Carrying Case    
• 1 ea - Joint Leak Detector Gun    
• 3 ea - Tube Seal sizes of your choice    
• 1 ea - Set of Compression Collars for All Tube Sizes    
Product Highlights:
• Simple, quick and reliable testing of up to 7 to 8 tube joints per minute.
• Interchangeable seal sets allow testing of tube ID's from .310" (7.75mm) to 1.21" (30.63mm).
• Uses standard plant air supplies from 70 psi to 100 psi.
• Silent during use and ergonomic design makes testing effortless.
Additional tube seals purchased separately.